Quick Details
| | | | | | |
| --- | --- | --- | --- | --- | --- |
| Place of Origin: | Brazil | Brand Name: | SPA Turbo | Model Number: | SPA PN EVCVLIMP06 |
Specifications
289 solid lifter Camshaft for turbocharged VW 827- 8V
SPA PN EVCVLIMP06
VW 8 valves watercooled performance CAMSHAFT
FOR NATURAL ASPIRATED ENGINES
Application: VW 827 4 cyl. 2 valve (1.5 – 2.0L Golf, Scirocco, Jetta, Passat, Vento, Polo Classic, Gol, Santana, Saveiro, Parati, Audi 80/90, A4, A3, Seat Toledo, Cordoba, Ibiza, Skoda Octavia...)
ABA, ACC, AP, EA827, 8V watercooled.
SOLID TAPPET
289°, 13.25mm lift, 221° duration @ .050", 106 Lobe centers.
Full Chilled cast iron, 59/60 HRC hardness.
Base Circle: 36mm
RECOMMENDED ASSEMBLY VALUES:
Spring K value: 195 ~ 220 Lb/in (35 to 40 N/mm).
Spring load: 60~70 pounds.
Maximum Spring load at 100% valve lift: 180 ~ 210 pounds.
Note:
The number one factor in premature failure of a new camshaft is an improper or worn-out valve spring.
Incorrect spring pressure or incorrect spring application will resultina worn-out camshaft.
This Camshaft has a 14.45mm valve lift, which is significantly higher than stock lift. Due to the high lift, the stock valve springs will "coil bind" or "stack" before the cam reaches its full lift. This condition will cause the cam to fail immediatelyunless the proper valve spring is used.
To ensure proper function, the valve spring coil clearance must be checked during assembly: With the valve at full lift, check the clearance between the coils. A minimum of1.25mm between the coils must be maintained.
When assembling the head, check the retainer to valve seal clearance. If the clearance is to low, the valve train will bind and result in camshaft failure. The clearance should be 1.50mm minimum.
Excessive spring pressures will also lead to early cam failure. The only way to ensure the correct pressure is to actually check the installed height and have the springs tested.
To Assembly This Camshaft,modification (machining) to the cylinder head is required:
The image below shows the engine head after the necessary modification:
Advertised cam spec:
QUALITY CONTROL:


Alloy analysis
chemical hardness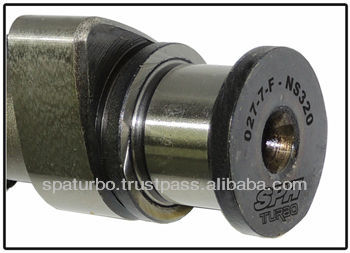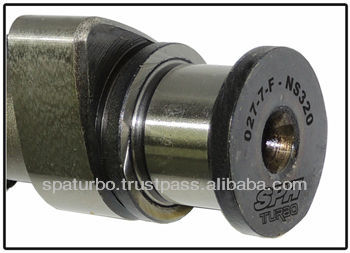 Laser mark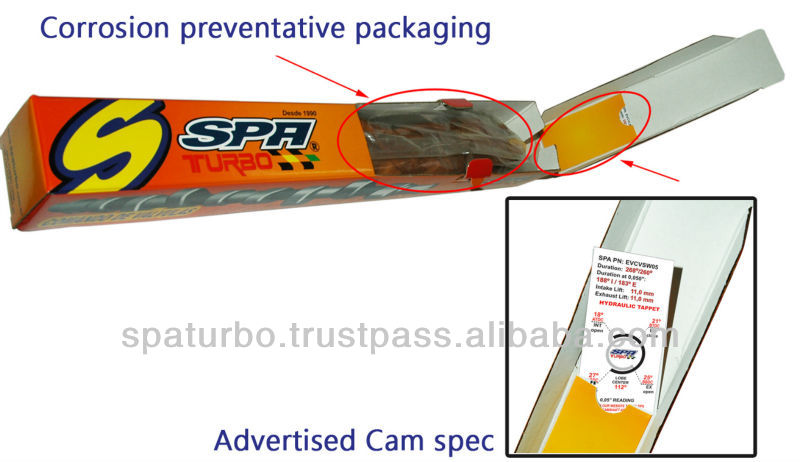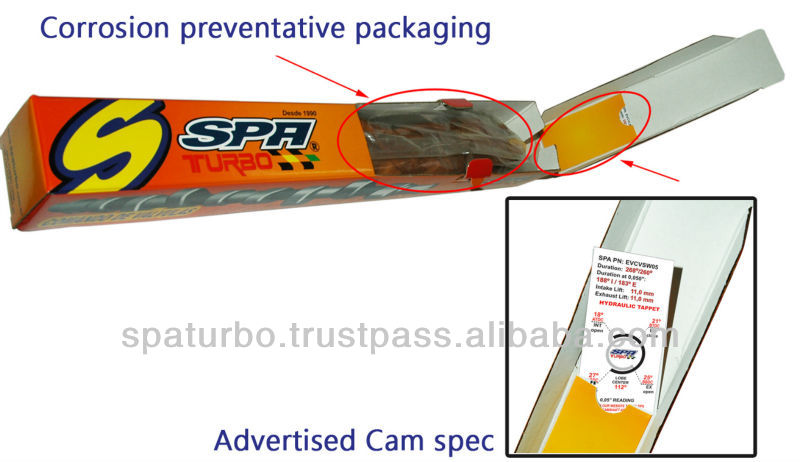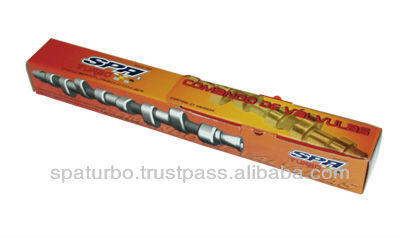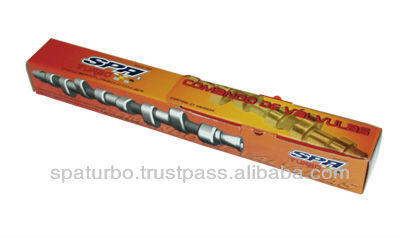 Exclusive SPA Turbo packaging
Watch videos by SPA Turbo:
http://www.spaturbo.com.br/loja//content/view/152#TestesSPA